Time to say goodbye to Dry January and hello to Veuve Cliquot because it's polo season baby! The Veuve Cliquot Polo Classic events have become calendar highlights in cities worldwide - from New York to Los Angeles these exclusive parties are guaranteed to draw an elite crowd of socialites and celebrities. Lagos counts itself amongst one of the cities supported by Veuve Cliquot and the Lagos Polo Club throws a VCP party like no other - 'ain't no party like a Lagos party'.
If you're apprehensive to foray into this elitist world, this style guide will not only school you on how to dress but walk you through the game and general do's/dont's to put your mind to rest. To be honest it's really a no-brainer - champagne is on tap, free-flow canapes are making the rounds, a celebrity DJ is spinning trendy tunes, fashionable beautiful people are genuinely having a good-time and they also give you cool merchandise to take home, the only r.s.v.p you should be responding with is - Yes!
Once you've completed this guide and find that you're itching to try out your newly found social skill set then you're in luck - the President's Cup final is happening this weekend at the Lagos Polo Club and it's the perfect party to put our celebrity inspired style guide to use. We look forward to seeing you there!
LITTLE HONEY WITH THE POLKA DOT DRESS.
The most iconic polo look is undoubtedly the brown polka dot dress worn by Julia Roberts in Pretty Woman. Fast forward thirty years later and it is still the print of choice and can be worn in a multitude of ways - whether its short, long, a top or skirt it has become the timeless go-to for any polo event.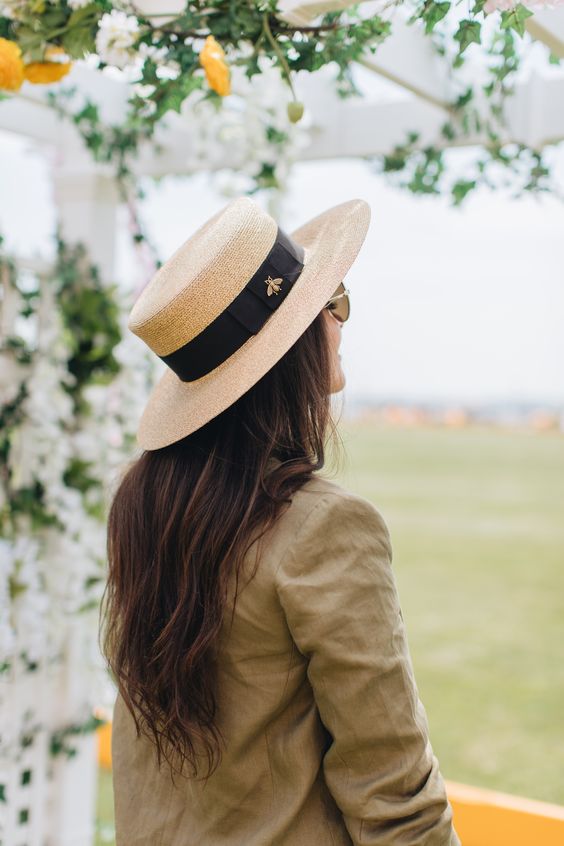 YOU CAN LEAVE YOUR HAT ON.
Polo is the perfect outdoor viewing sport to bring your summer hat game. Straw or wide brimmed floppy hats are the desired choice to keep the sun off your face and fashion intact. But, why not take a walk on the wild side and pick a printed soft hat or an XL wide brimmed straw hat to really bring the drama to classic look.
WEAR YOUR FLORAL DRESSES.
If polka dots aren't your thing but you're still a print girl then opt for florals - another classic polo print favored by celebrities and the fashion crowd.
Often referred to as the 'Sport of Kings' polo is a sport often associated with the Royal families. Despite it's traditional heritage, the dress code for Polo over the years has become more relaxed. For the gents - a pair of well cut jeans (white is a popular look) chinos or even smart shorts with a good quality shirt or polo shirt is the desired choice. If you prefer a slightly smarter look a tailored pair of chinos, shirt and blazer will not see you out of place. Feel free to bring out the Dandy in you - color & print is welcome too!
Basket bags are a trend that don't seem to be going anywhere and are the go-to arm-candy of choice at Polo events. Small is in, Bulky is out - all you need is a rattan bag big enough for a phone, make-up and a small electric fan.
One of the great perks of going to a Veuve Cliquot sponsored Polo event is for scoring the amazing VCP merchandise. By the far the best pull is the parasol - not only does it add sartorial flair to your outfit, it provides the much needed shade for the long hot afternoon ahead.
The classic white dress has had a makeover - romantic flowing dresses are out and sexy laced, thigh splitting, cut-outs are in. Damsel in distress vibes went out with the #metoo movement and glamorous rock-chick is the only vibe to channel this weekend when wearing white.
WHILE YOUR FEET ARE STOMPIN'.
If you are a die hard Pretty Woman fan like ourselves, you'll have memorized every scene. A fan-favourite to recreate is "the stomping of the divots". Divot stomping is a halftime tradition at all polo plays, wherein all the guests take part in smoothing out divots that may have been created by the ponies during play. Stiletto's are not advisable unless you have the skill-set of Ru Paul - wedges or flats are the perfect stompin' shoes and you're guaranteed to have more fun without having to worry about sinking into the grass.